Jem's Blog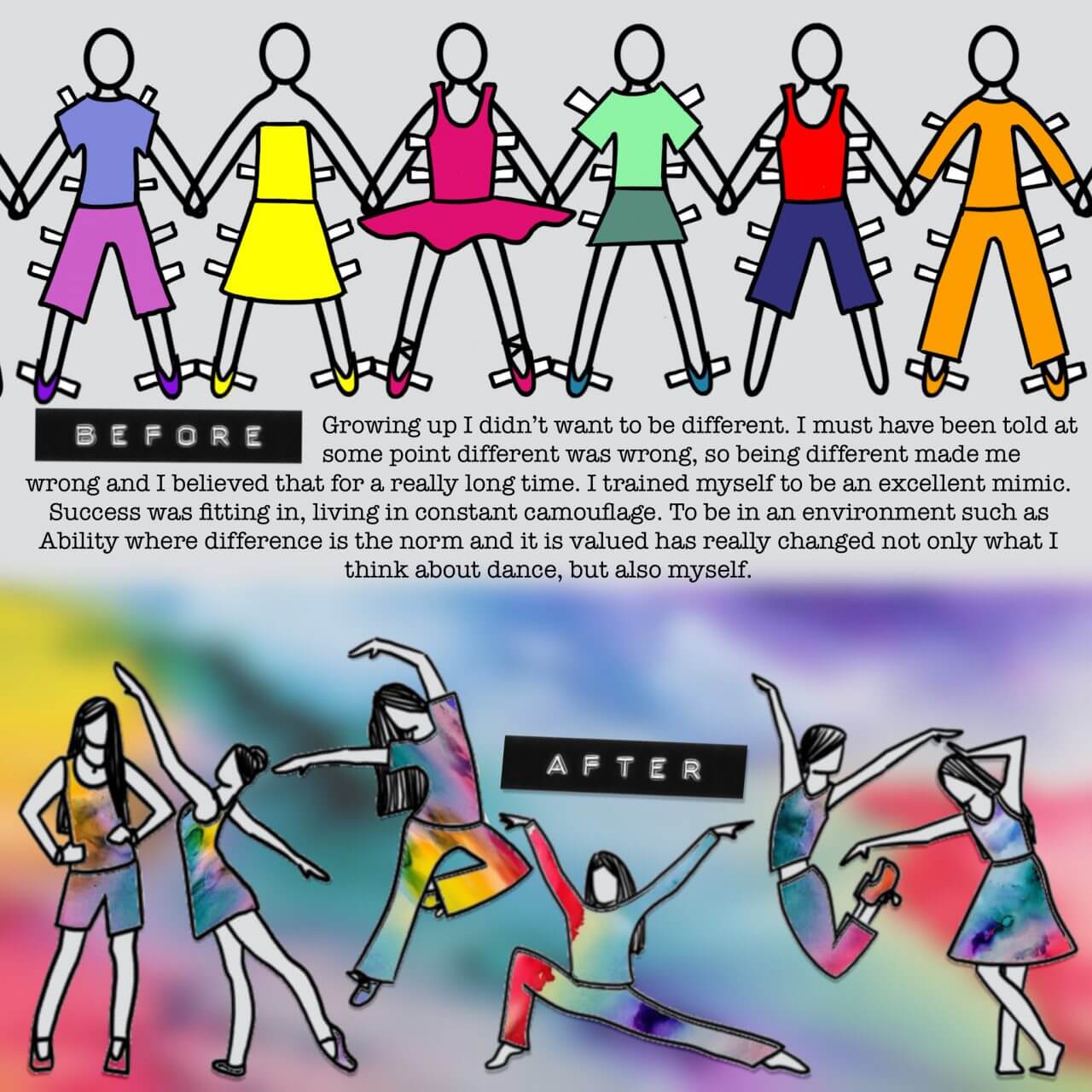 ¡Hola de nuevo desde Leeds! Soy una de las bailarinas del grupo Ability y en este blog, encontrarás una parte de mi experiencia personal como parte del grupo del proyecto de Erasmus + SHIFT.
Conozco mucha terminología y podría decirte muchas cosas sobre danza e inclusión y sobre enseñanza. Pero, por supuesto, no es suficiente con conocer sólo la terminología, puesto que la misma está todavía creándose. Conversar es más que hablar, al igual que la danza es más que la simple técnica. Cuando estoy bailando y pensando sobre la terminología, sé lo que es, al igual que las pautas que estoy tratando de recrear. La creación es diferente, puesto que esta aborda incorporar lo que uno sabe y hacerlo propio, de manera que se genere de una forma nueva y esto, es mucho más difícil para mí.
Mi amor por la danza, viene de estar en clase, pues la libertad para mí está en el seguimiento. En Ability, encuentro un reto, puesto que tengo que disfrutar moviéndome de una manera diferente, desde dentro hacia fuera. Mis profesoras me han ayudado a sentir lo que significaban los movimientos y este hecho, es tan extraño como fantástico. La conciencia corporal ha sido para mí, probablemente, la herramienta más útil que hemos desarrollado. Utilizamos numerosos accesorios visuales y pautas táctiles. Esto me ayuda a estabilizar conexiones entre mi cerebro y diferentes partes de mi cuerpo, lo cual tiene un impacto con mi habilidad de controlar y aplicar correcciones al instante, con mayor consciencia.
Me sorprendió lo rápido y eficaz que se produjo este cambio. Cuando era pequeña, existía únicamente una escuela, un/a profesor/a, una técnica y evidentemente, una única manera de aprender válida para mí. Nunca se me ocurrió preguntarme si este modelo era el correcto para mí.
Tuve la suerte de que nadie nunca, me frenó a la hora de hacer cosas; como pude, hice frente y me adapté. Estuve complicada, pensando que eso era inclusión durante tiempo. Me encanta que en Ability, todxs aprendemos juntxs y de una manera muy diferente. Utilizando numerosas formas de comunicación desde diferentes estilos de aprendizaje y preferencias simultáneamente. De alguna manera, todxs somos profesorxs y estudiantes y me encanta que esa diferencia sea la base de las normas y valores.
Mentes y cuerpo únicos significa que la diversidad puede surgir con normalidad y esto crea un entorno muy excitante y creativo. Yo siempre soy reacia a preguntar e incluso a aceptar cambios. Pero en Ability, al acomodarme a otrxs, también estoy acomodándome yo misma, sin darme cuenta. Esperaba aprender a ser una mejor profesora; pero nunca esperé llegar a ser una mejor bailarina y esto me ha hecho apreciar que las adaptaciones no son una muestra de engaño o injusticia, sino que sirven para garantizar la equidad, equiparar el acceso y dar oportunidades.
The European Commission support for the production of this publication does not constitute an endorsement of the contents which reflects the views only of the authors, and the Commission cannot be held responsible for any use which may be made of the information contained therein.